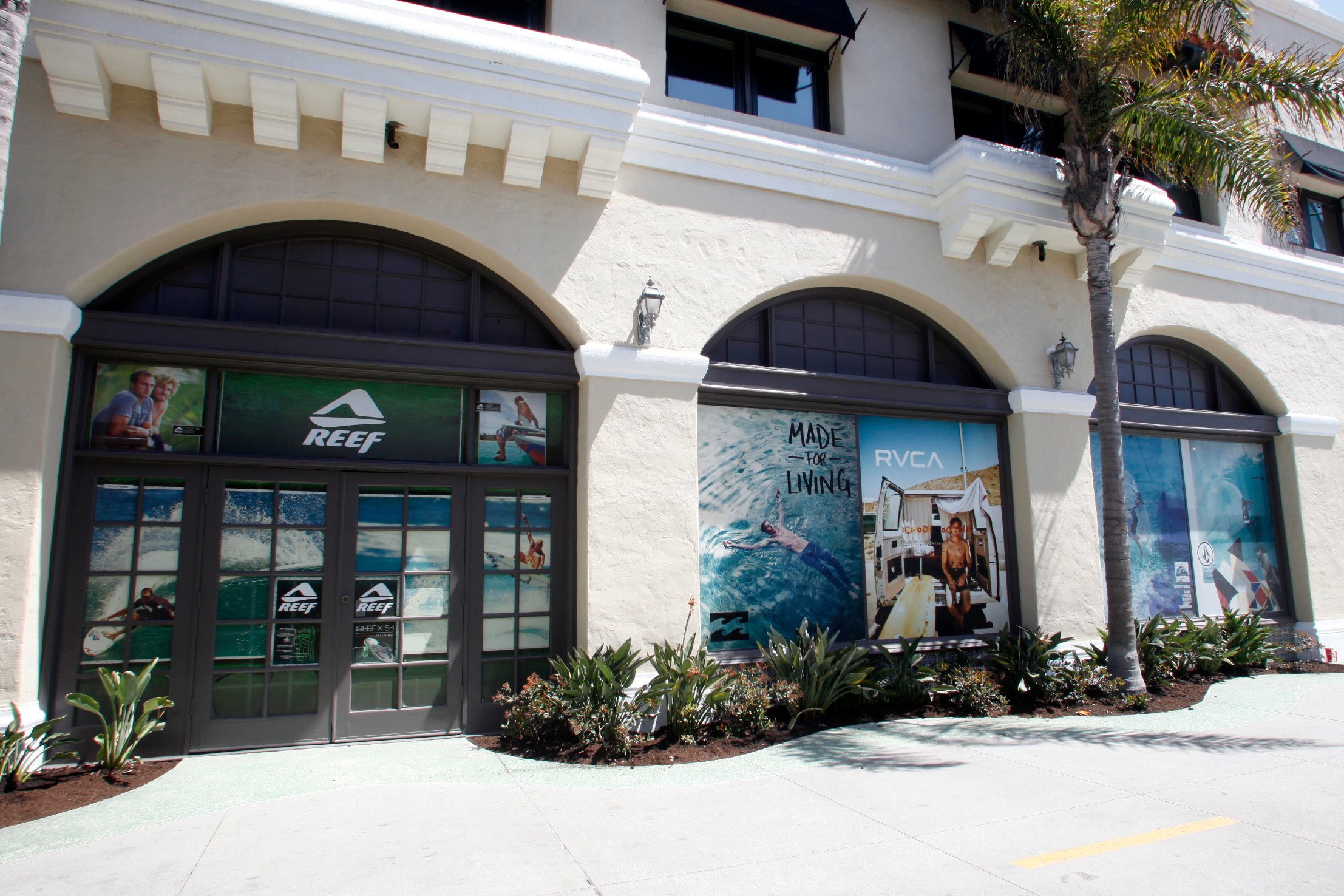 Imagine the perfect storefront? Does it represent the quality of goods or services you offer? What is an easy way to build brand awareness and promote your products and deals?
Studies show that people will enter an establishment more often if they see attractive window signage. That is why window signs and displays make up the bulk of any marketing plan for retail stores, malls, or restaurants.
Window graphics are a quick and easy way to promote products, encourage customers to stop by, and attract new business. In this blog, you will find five benefits of incorporating window decals for business and a few common mistakes to avoid when designing your window display.
What are window graphics?
Window displays, window wraps, and vinyl window decals are all the same things, and they refer to window branding in any form – stickers, posters, or printed vinyl.
Storefront window graphics are a great way to promote your business. They come in many different forms, from stickers and posters all the way up to vinyl letters that can be applied directly onto windows without any adhesive required! If you're not sure what's right for you – don't hesitate to ask the team at DVC, and we'll help find just the perfect solution with our expertise in window graphic printing.
Check out this case study with @sugarfina as we share the challenge, solution, and beautiful results for their window display.
The businesses that window graphics work best for.
The truth is they're beneficial for any business. However, window signage will work exceptionally well when trying to target both individuals who walk past your window as well as car drivers cruising by. They can also help advertise local events or street festivals when placed appropriately.
When a business employs window prints, they need to be installed in an area with the broadest impact possible. This usually means directly on the window. If you're also trying to target individuals who walk past your window, then window graphics are an excellent idea. It gives people passing by the chance to see your brand and message- window graphics work well for pedestrians and drivers alike!
What window graphic would work best for you? 
Again, this depends on your business, what you're trying to do with window prints, and how much money you have available. There are so many different types of window graphics out there it can be overwhelming! The easiest way to find out what works for your unique needs is to get in touch with our large format printing experts here at DVC, and they'll know exactly which window print material will best suit your needs – both branding-wise as well as budget-wise.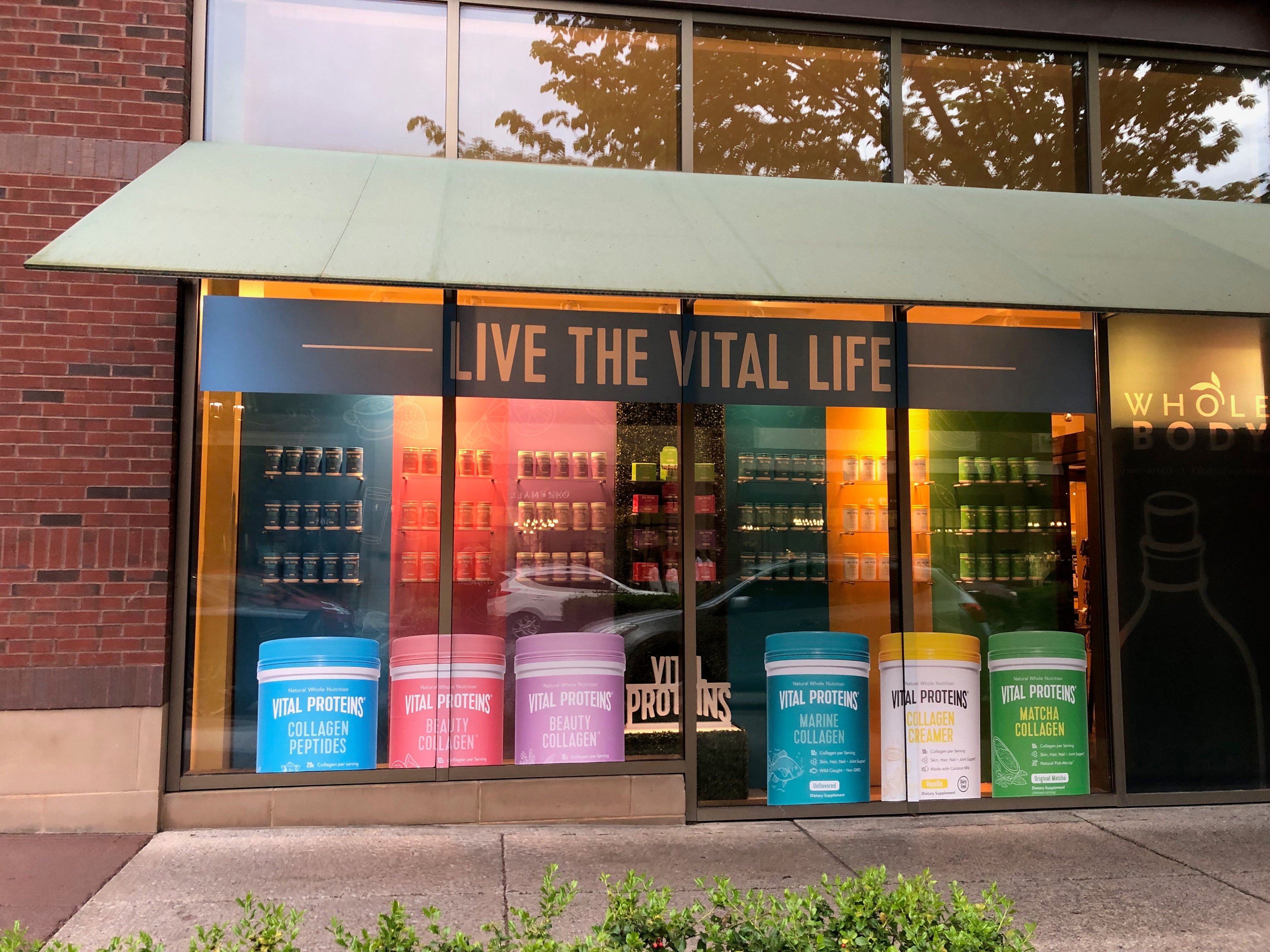 Popular Window Graphic Products.
Vinyl Letters/Decals: Your window is your advertisement, and we will help you show it off in style! What better way to attract new customers than by giving them something that catches their eye? Vinyl lettering can make any business look professional, from small boutiques up to major corporations.
Custom Die Cut Window Stickers: Our die-cut window decals will make your brand pop! With our variety of shapes and sizes, we can design a custom vinyl sticker for any surface – no matter the size.
Window Wraps & Murals: Transform your windows into billboards with edge-to-edge displays that will wow and inform passersby. We know many strip malls lack quality signage, but window graphics can help you deliver the story of who you are – or what do in this case? If it's a restaurant, use high-quality photos to create cravings for all those tastiest menu items you offer (and don't forget about branding!). And if services are more up your alley, show off exactly what type you provide–so onlookers have an unforgettable memory when needing some assistance later down the line!
Popular Window Graphic Materials.
Window Perf: Are you looking for a way to grab the attention of people passing by but still want to see out the window? If so, our see-through window decal technology is perfect. A popular choice in locations that demand privacy or need relief from direct sunlight, perforated graphics are tasteful ways to send messages and accomplish these tasks without drawing too much attention away from what matters most – your business!
Clear: The transparency of the window graphic design allows natural light to enter and does not block visibility from inside or outside. This material is best for a location where privacy isn't necessary – perfect for decals!
Opaque: Often, people will want to block harsh sunlight with opaque window decals. These have a solid background that doesn't allow light or visibility from either side, so you can enjoy privacy when necessary and still be able to see out without being disturbed by passersby on your property line!
Frosted: Finding the perfect balance is not easy. There are frosted designs that provide just enough intrigue without revealing anything about themselves.
DVC will help you choose among our many options. For more information, please visit our website at https://dandreavisual.com/contact-us/ today!
And remember: if you're uncertain about investing in window graphics and need some expert advice – our print experts are just a phone call or email away!"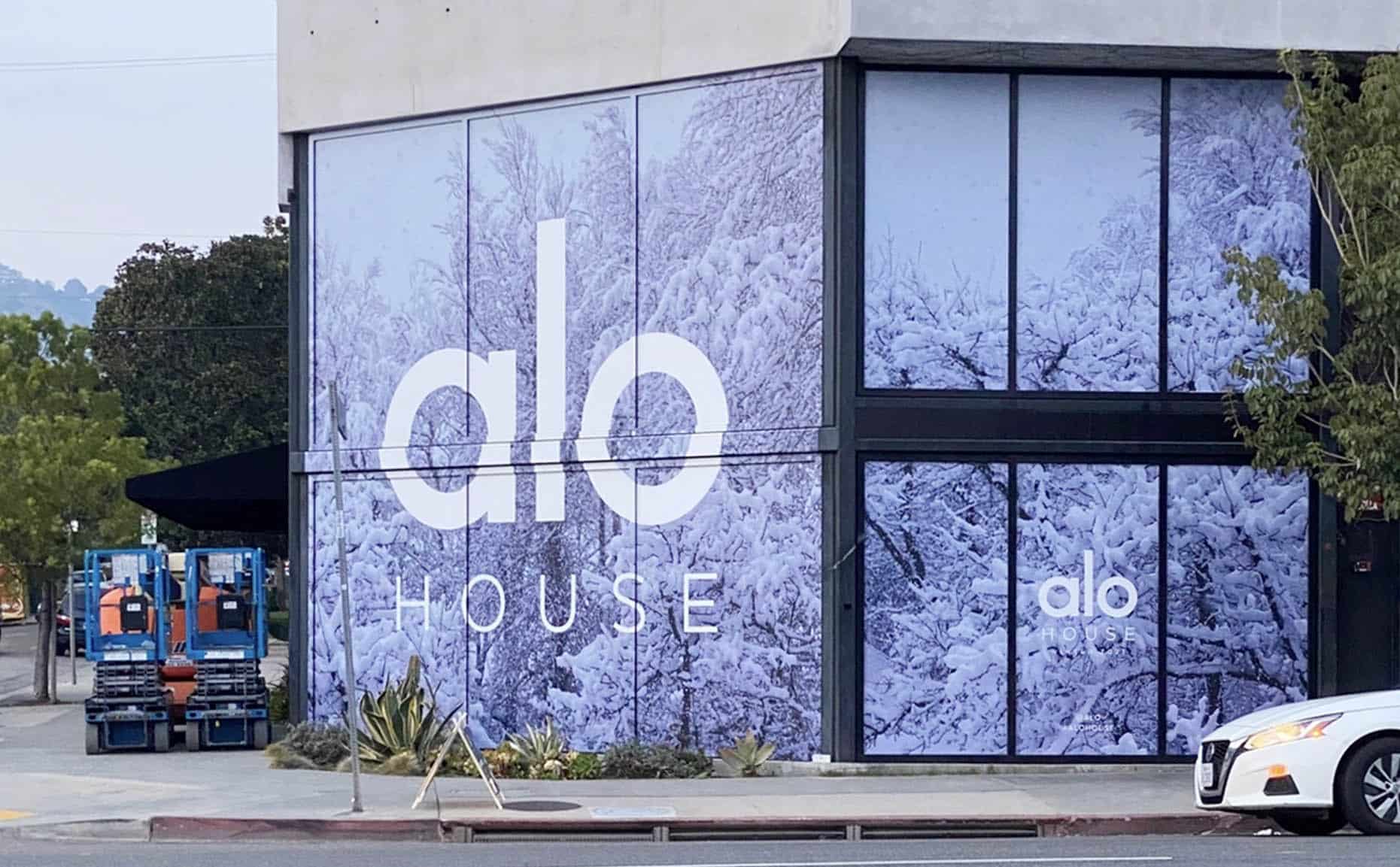 Now that we have quickly recapped what window graphics are, some popular products and materials. Let's dive into a few reasons why you should include window graphics in your marketing strategy or think about updating your window graphics to match your current marketing campaigns and promotions.
Five Benefits of Window Graphics.

Window graphics generate interest.

Window graphics are the perfect way to show off your company's personality. They're also one of our most popular choices because we can customize them with any logo or slogan!
They are great for seasonal promotions or new product introductions.

The use of seasonal and new product promotions is a great way to keep your products fresh in people's minds.
A company can run special deals, release information about its latest updates, or even display holiday banners.
Custom window graphics increase brand awareness and create more opportunities for sales

Window graphics are an affordable and effective way to increase your brand awareness, and they also give you more opportunities for sales.
Our Graphic Artist can help create custom designs that will be the perfect fit no matter what potential customers desire, industry, or market segmentation!
If you're looking for an inexpensive marketing strategy, then look no further than custom window graphics!

Window graphics can be a great way to enhance your company's branding and attract new customers. Since they're inexpensive, custom-designed for each project, not only does it make financial sense, but there are also many other advantages, including aesthetic satisfaction!
Window Graphics are applied to windows of any size, from large storefronts and building wraps to small business windows that need a little extra advertising boost.

At D'Andrea Visual Communications, we apply high-end graphics on every order, chambering clients' dreams come true no matter how big they are.
Our in-house graphic artist can accommodate all shapes and sizes, so your design will fit your needs perfectly!
Our designers are creative and knowledgeable enough to ensure that your project will be completed in the most efficient manner possible. Your needs will be met with ease, regardless of size or shape!
Three things to keep in mind.
Window graphics are a great way to get your message across. They can grab eyeballs and hold them long enough for people to read what you want them to read. This is especially true when they're on a busy street corner or in front of a crowded building waiting for their bus, but even if it's just sitting on someone's desk at work. It doesn't matter where it is, as long as it has been seen by whoever you were trying to reach with your message!  One thing that makes window graphics so effective is how easy they are to create and use – if you can write an email, then designing a window graphic should be right up your alley! You don't need expensive editing software or any artistic ability whatsoever. At DVC, we collaborate with you and simplify the process from design to installation. We got your back, and here are a few things to keep in mind when designing your graphic.
The very first thing you need to keep in mind is that window branding is not the place to show off your creative genius. The objective is for you to communicate a message, and there's nothing wrong with using an effective graphic if it accomplishes this objective! And yes, beautiful images can grab attention, but they can also be distracting as well as take away from your message. If people miss your message because they're staring at the pretty picture you used, then it's not practical and should be avoided if possible.
Secondly, you want to make sure any images or graphics you use don't scream, 'I'm trying to look edgy here' if they don't fit in with what you're trying to say. This is a common mistake and one that people make when they get too carried away trying to be unique and stand out from the crowd – it backfires, and your audience will see this as nothing more than a desperate attempt to get attention. The only way window graphics should ever get attention is because of what they say, not how they look.
And lastly, you need to keep your images and fonts simple. The easier it is for people to read what you're saying, the better your window graphic will be, so only use pictures or graphics that are necessary and important – don't crowd too much in there! You want your audience to see what it is you're trying to say, not getting distracted by all the noise.
We hope this article has helped inform you about some common mistakes that can easily be avoided when designing your window graphics. Try to keep in mind what makes a good window graphic in the first place; simplicity and clarity in communicating your message effectively. As long as you understand that, then you should be okay.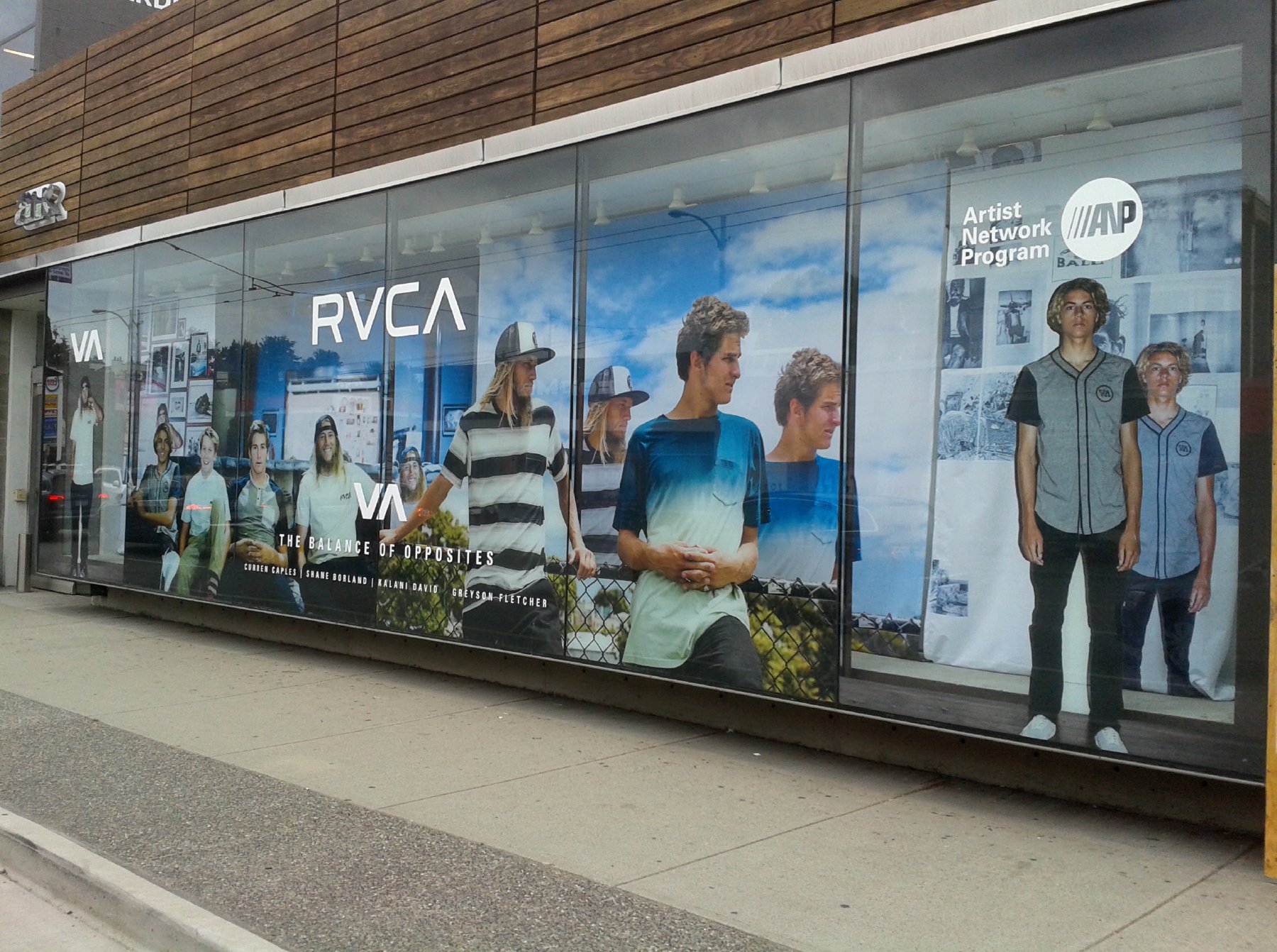 Choosing window graphics.
Window prints come in many shapes and sizes and can be used for anything from window signs to window decorations. The best window print for you entirely depends on your wants and needs. Suppose you know what type of design you want but need help choosing which material will work best. Then don't hesitate to chat with one of the Account Executives at DVC, as they'll be able to offer their expertise and guidance on finding exactly what you're looking for.
Why D'Andrea Visual Communication for your window graphic needs.
D'Andrea Visual Communications has been in the printing industry since the early 2000s. Initially starting as an offset litho printer in 2005, we have since grown to become a full-service turnkey printing company that offers services for all your visual communication needs. We have two locations, our headquarters in Cypress, CA, and a brand-new facility in Las Vegas. DVC has built a reputation for supporting the retail and restaurant industry with all their printing and custom fabrication needs, as well as the tradeshow and event industry with large format printing services.
D'Andrea Visual Communication is a Minority-Owned printing business certified by the Southern California Minority Supplier Development Council. DVC is committed to meeting supplier diversity goals and making a difference in our local communities. We also partnered with PrintReleaf to increase our sustainability efforts by offsetting the carbon footprint we leave behind. This exciting partnership means planting the exact number of trees used based on paper consumption. But above all, we take pride in our customer service, ensuring you the best experience possible with a printing company.