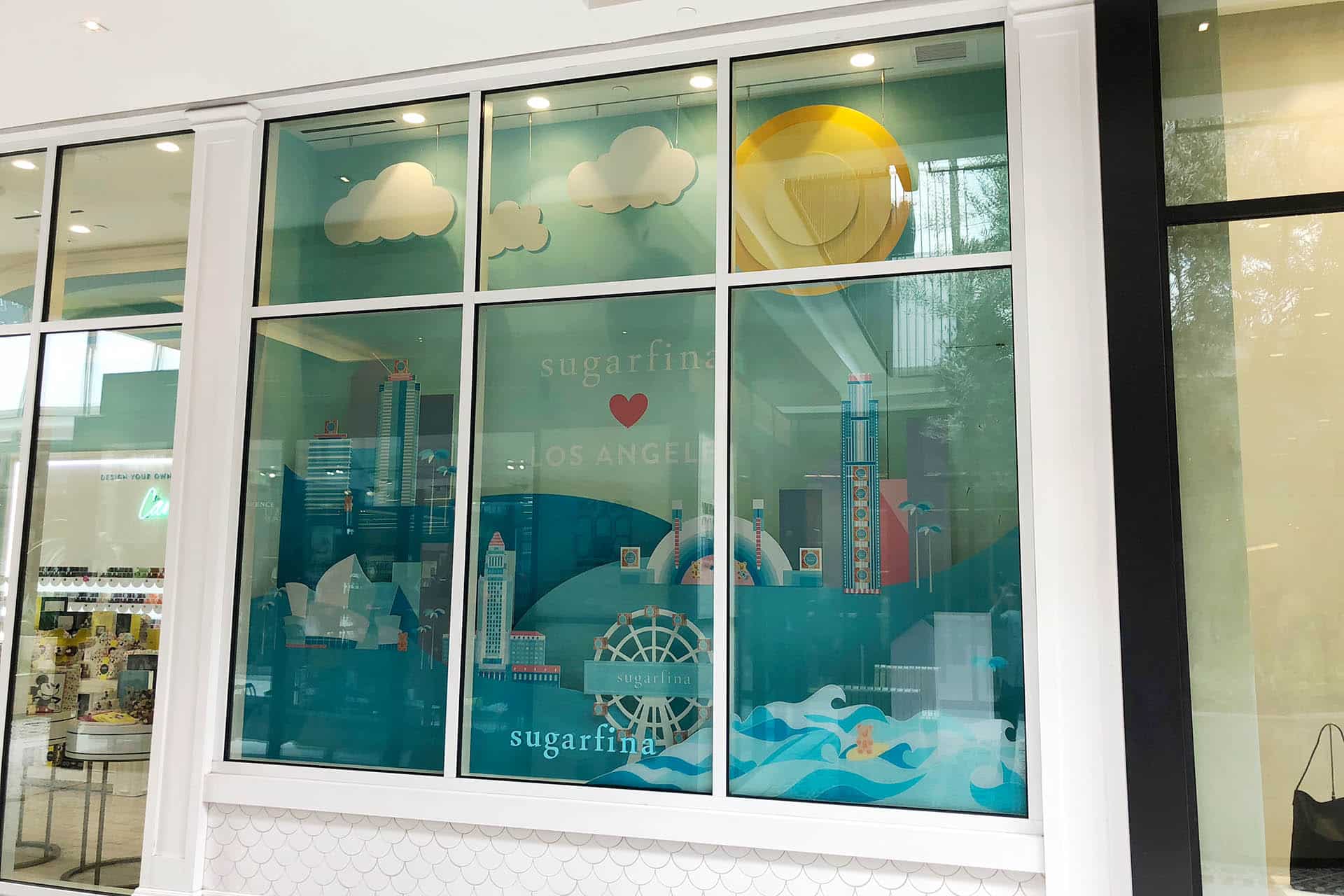 Humans process visuals 60,000 times faster than text. This fact can give retailers a unique advantage. Your clients' storefront window provides the perfect medium to draw customers into the store. 
Window displays and visual merchandising are among retailers' most essential tools in their marketing arsenal. This type of advertising uses the windows at the front of a store to display items currently in stock while showcasing the store's brand. Store owners can also use a window display to highlight current offers or sales. 
Storefront window displays can increase sales by turning window shoppers into customers. It draws them into the store for a closer look and subsequent purchase. If you want to achieve the same results for your clients, read on. 
The Power of Window Displays & Visual Merchandising 
Visual merchandising became a vital business element for countless store owners in the 1800s. Many dry goods establishments were transitioning from wholesale to retail at the time. They realized that although stacking goods for ease of storage was once the norm, this practice would no longer suit their new business model. They needed to display their goods in a manner that would attract customers.
Visual merchandising made this possible. It is a marketing tool companies use to display products within a retail space. It emphasizes a product's features and highlights its benefits in an attractive way. The goal is to capture shoppers' attention. They learn more about the product and are more inclined to purchase it. 
However, only shoppers who ventured into the store could appreciate in-store displays. That is until shop window displays became the ideal location to showcase products. It provided a way to encourage passersby to enter the store.
Since then, window displays in retail have provided many benefits to the businesses that use them. 
Effective Advertising
Window displays and visual merchandising are effective forms of advertising. Almost 80% of participants in a study found theme-based displays effective. This included storefronts featuring Valentine's themes. These special occasions can provide opportunities to display products using a unique layout. You can also use these displays to highlight current deals. Both can increase the likelihood of shoppers entering the store.
Tell a Story
Visual merchandising windows provide a medium to creatively tell a brand's story. This goes beyond simply displaying products. Instead, it creates a narrative that can help to increase brand recognition and loyalty. Associating a brand with positive elements or "affective conditioning" can evoke similar positive feelings about the brand.
Convert Browsers to Customers
Some of the best retail window displays have converted interested parties into customers. Studies show the impact of various elements of visual merchandising, including layout and lighting, can positively influence a shopper's intent to purchase. Impulse buying can result in increased sales and improved profit margins.
Add Value
Stores often have products that are slow sellers. This can be due to their location within a store. Customers may not have enough information about their benefits and, as a result, may lose interest. Store window displays can change this by highlighting a low-demand product. This can generate interest leading to more purchases and faster inventory turnover. 
An Enhanced Shopping Experience
Window displays and visual merchandising provide a unique opportunity to create excitement about a brand. Through creativity and innovation, businesses can engage customers. They can also appeal to their senses using special lighting, music, and scents. Displays can also include interactive experiences.
Types of Store Window Displays 
When planning visual windows, choosing the most suitable type of display is essential. It should highlight the product and be appropriate based on the store's size. Here are a few you can consider:
Closed Window Display
Framed by walls that create a mesmerizing, contained experience, closed window displays invite shoppers to explore the space. From product promotions to limited-time offers and more, these visually appealing setups engage customers in an immersive environment – making for memorable shopping experiences. 
Open Window Display
Unlike a closed window display, an open window display allows customers to see beyond the window's visual display into the store. These displays often incorporate the store's decor. They provide a seamless transition between the window display and the rest of the store.
Semi-Closed Window Display
This display is a blend of both the open and closed types. The back wall of the display is often lowered, giving shoppers a partial view of the store. 
Elevated Window Displays
Elevated window displays are the perfect way to draw customers in with an eye-catching display. Show off smaller items like cosmetics on stylish shelves or pedestals and make a statement by adding unique structures customized for your product.
Corner Window Display
A corner store has the unique opportunity to showcase its products creatively. The new perspective of viewing items from both walls meeting at a single location opens up exciting retail opportunities. With such an eye-catching display, businesses can use this distinct feature to give their merchandise depth and character.
Tips for Designing Eye-Catching Storefront Window Displays 
Imagine having a medium that could influence a shopper's purchase. That's how powerful storefront window displays can be. However, they will only be effective if planned well and displayed appropriately. Here are a few tips to help you catch shoppers' attention.
Set a Clear Goal
Crafting the perfect storefront window display is a great way to achieve your business goals. Whether you're hoping for increased sales, more visibility on low-demand products, or highlighting something new, understanding your target audience is vital. 
Aiming at an age demographic in particular? Make sure that users of all ages feel welcome by creating balance in the design; too much specificity may make others think there's nothing available for them. For success, pick designs and features which will attract customers without alienating anyone else – it's possible with careful planning!
Stay Consistent with Your Branding
Always reflect what a brand stands for in the display. Whether creating a themed display or highlighting a specific promotion, this should be an underlying thread. This can include using your brand colors, logo, and fonts.
Tell a Story
Use your products to tell a story. Your story should entice customers, inviting them to come in to learn more. Themed displays are a perfect way to do this. They're also more likely to resonate with shoppers when it coincides with a special occasion. 
Use Large Graphics
When using retail window signage, ensure the graphics are large. Going large with your display is an excellent way to grab shoppers' attention. The display should also be well-lit. This ensures shoppers see the product's features and any special offers.
Place Products at Eye Level
Always think about products from the customer's perspective and display them accordingly. They should be at eye level, ensuring product features and details are easily seen. This helps to draw customers in so they want to learn and experience more.
Make It a Sensual Experience
Storefront window displays should never be one-dimensional. They should go beyond that to pique shoppers' senses. The impactful use of color, lighting, and vivid images will attract them to the display. Once they're close, target their other senses. Use sound to entice your target audience and reinforce brand attributes. A unique scent can help customers associate it with the store whenever they smell it. Interactive displays allow customers to engage with a brand. 
Consider the Store's Location
The store's location can determine how much time a shopper has to view your storefront window. There's an advantage to stores located in a mall as shoppers are on foot and typically spend some time browsing. There's a similar dynamic for stores in strip malls. However, some potential customers may only notice your storefront when driving by. This limits the length of time you have to capture their attention. These displays should be bold and well-lit, making them easily seen. You'll need to ensure you create a display that catches the attention of potential customers, whether they're walking or driving by.
Making a Great First Impression 
You only get one chance to make a first impression, and window displays and visual merchandising provide the perfect backdrop to achieve this. It's the first visual of a brand a shopper sees besides the store's name. It's often the factor that makes a potential customer decide whether they enter the store or simply move on.
You'll want to get your storefront display right to ensure shoppers take the former action. There are many factors you'll need to consider to achieve this. DVC provides the solutions to ensure you do. 
Choose D'Andrea Visual Communications for Your Window Display Needs
At DVC, we have the skills and expertise to create stunning retail displays that capture attention and draw customers to the products you are selling. 
Ready for your display to make an impact? Our team specializes in bringing your big ideas to life with large format printing services and installation. Superior quality and attention to detail come standard. Choose DVC for high-impact results every time.