Celebrate Diversity with DVC, a Minority-Owned Business
What is a Minority Business Enterprise?

Minority business enterprises are companies at least 51% owned by someone who is at least 25% Latino, African American, Native American, or Pacific Islander. The owner must also be a U.S. citizen. According to the minority-owned business definition, there may be requirements that impose employee and shareholder diversity if a business is publicly traded.

Being able to define a minority-owned business is crucial to achieving an MBE minority business enterprise certification within your state.

Our Journey to Becoming a Minority Business Enterprise

At D'Andrea Visual Communications, we are passionate about developing a program that empowers minorities to succeed. We believe that diversity allows us to improve the quality of our services and contribute to society as a whole.

When we learned about this program, we spent many long hours researching "what is a minority business enterprise?" and how to apply for a minority-owned business certification.

But it left us with the question, "Do I qualify as a minority business?"

Thankfully, the program provides a simple definition of who qualifies for the program and allows businesses to apply online.

As a certified minority-owned organization, we applied directly to the Small Business Administration (SBA). D'Andrea had to demonstrate that it was owned by someone with a personal net worth of under $250,000, someone with less than $250,000 in adjusted gross income over the last three years, and had the financial muscle to carry about Federal contracts.

Furthermore, several state certification programs follow most of the same requirements. The process required a lot of paperwork and consultations, but it was worth it since we are so passionate about diversity.

A Minority Business Enterprise that Empowers Others

Developing a better understanding of what is a minority business enterprise and how to qualify for certification was one of the best moves we made. Today, D'Andrea's flourishing team culture has empowered us to achieve and exceed our goals.

An example of our work as a minority business enterprise is our partnership with AT&T. They partnered with us, a minority-owned visual communications provider, and we have delivered expert-level print quality on all commissioned products.

We are proud of the fact that we are a certified MBE who can enhance brand recognition, strengthen community outreach and company culture, as well as improve the results of marketing efforts for every business we work with as a quality visual communications provider.

Why Partner with an MBE like D'Andrea Visual Communications?

Partnering with an MBE can strengthen your brand recognition, community outreach, company culture, and marketing efforts.
Corporations seek minority-owned printers to meet their supplier diversity goals.
Diversity is high in value. Partnering with an MBE shows that your business supports minority communities.
You gain access to knowledge and expertise from a variety of backgrounds.
Partnering with an MBE has been repeatedly proven to improve your bottom line.
You are making a significant contribution to society, giving minority businesses opportunities they have been denied for so long.
MBE partnerships are highly valuable in a marketing context.
Advantages of Becoming a Certified Minority Business Enterprise

We've answered, "what is a minority business enterprise?" and explored the benefits of partnering with an MBE, but what are the advantages of becoming an MBE? When looking at the pros and cons of minority-owned businesses, the advantages far outweigh the disadvantages. We believe putting diversity at the forefront of your business process can supercharge your growth.

If you fit the criteria, you can qualify for several minority-owned business benefits, such as:

New Opportunities – Access lucrative government contracts, take advantage of tax breaks, and reduce your overall strategic spending on resources by being a minority-owned organization.
Value – Federal and state government incentives are available for being a minority enterprise.
Cost Efficiency – There are special cost savings strategies available to minority-owned businesses that are unavailable to other companies.
Unlock New Talent – The program provides pathways for minorities to bring new ideas and innovations to the table. Diversity is strength, and harnessing creativity from different backgrounds can bolster your organization.
A Message From Our CEO...

At DVC, we believe cultivating a diverse workforce is a necessity and we are committed to embracing differences and change. And when it comes to creating new ideas and solutions to benefit our customers, it is all about valuing and including those differences and opinions when making key decisions.

Our clients represent different races, age, cultures and much more. So, the ideal way for us to innovate and enhance their brand is to reflect that same diverse representation in our own business.

We very much appreciate our loyal customers who choose to do business with companies whose business ethics are socially responsible.

Empowering others strengthens us all.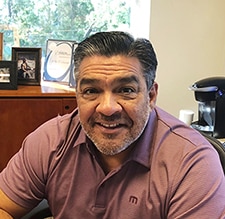 David D'Andrea
CEO and Founder