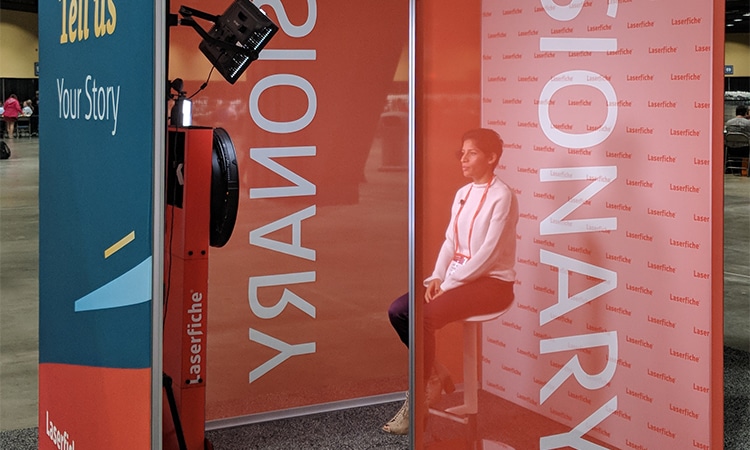 It's happened again.
Another trade show project comes through the shop and we can't stop talking about it.
This time our friends at Rad.Work put us to work for a couple of interactive trade show displays. And when see-through fabric and digital displays are part of the mix, things get really interesting.
We spoke with Taylor from Rad.Work to get the inside scoop on these beautiful trade show displays.
What show did these displays go to?
Laserfiche Empower 2018 Conference in Long Beach, California.
What was the goal of both your trade show displays – the video booth and interactive wall?
Video Booth
To get attendees to interact and share their stories about their experience with Laserfiche.
Interactive Wall
Educate attendees and get input from them via a survey that displayed their input (photo and quote) live on the wall in front of them.

What were the challenges in the design of your displays?
Video Booth
Creating an enclosure that people could see what was going on inside but gave a sense of privacy.
Interactive Wall
Making an impactful display with digital displays.
Why did you choose SEG fabric for your display graphics?
Video Booth
The mix of non-transparent and transparent fabric made for a clean design and met our challenges of creating an enclosure that people could see what was going on inside while giving the participant a sense of privacy.
Interactive Wall
We wanted something with a clean look and was lightweight. SEG fabric was the best choice and gave an impactful look on a large scale.
In your experience, what is the key ingredient in getting attendees to stop by your booth?
A dramatic presence that drew attendees attention from afar with a well-executed display and digital content. Along with brand ambassadors that engaged with attendees.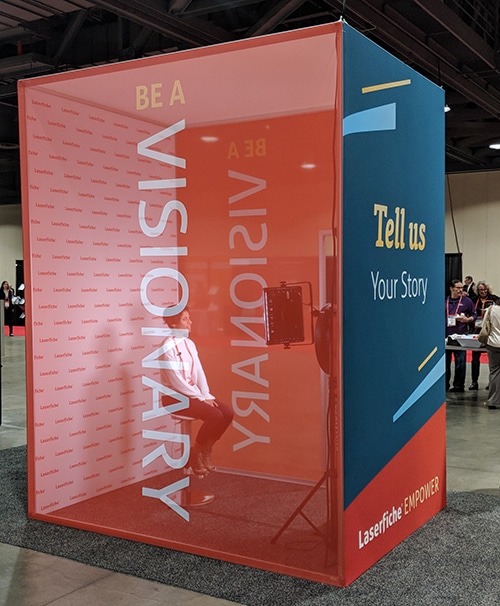 When it comes to fabric displays for your trade show booth, you are speaking our language. At DVC, we stock 8 different aluminum extrusions for silicone edge graphics and fabric graphics are printed in-house.
Want to chat about your next project?