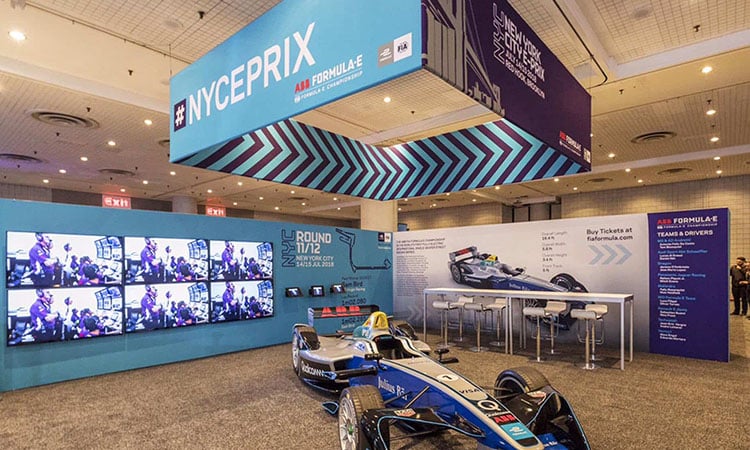 You already know that trade shows are great networking opportunities — but do you know how to create great trade show exhibition displays? Much of your success at any trade show will depend upon your display. 
If you need some fresh new trade show display ideas, and inspiration, you've come to the right place. Keep reading for ideas on how you can attract more attention at your next show! 
The Power of Trade Shows
Trade shows are an opportunity to show off your product, connect face-to-face with buyers, and scope out the competition. They present a chance to make real connections beyond phone calls and video conferencing. Plus, the occasion – which is often annual – is usually a time to travel, get out of your routine, and have some fun. 
When doing so, you need to fully take advantage of visual communication at trade shows. These shows can be crowded and loud, and salespeople are not always able to communicate with every potentially interested person who walks by. So a setup that communicates your product or service for you will lead to more sales and connections. It will invite folks into your exhibit so they can learn more about what you do. 
Visual communications happen in the blink of an eye, and first impressions matter. After your branded visuals hook people, the hard part is over. With their attention captured, all you have to do is explain your product or service. 
10 Trade Show Display Ideas
You may want to tailor your displays to different trade shows, but in general, keep your brand consistent and recognizable. To help visualize your next exhibit, here are ten trade show display ideas.  
1. Create an All-Encompassing Environment
Use the space you have to create a fully immersive environment. Don't overlook the ground: customize your floor space with a pattern or pop of color. With a printed carpet, you can define your space and set your booth apart from others.
At eye level, adorn your counter with tabletop signs, table skirts, and table runners. And while displays don't tend to have actual ceilings, you can provide the illusion by incorporating hanging signage overhead. 
2. Feature a Photo-Friendly Backdrop
A photo-friendly backdrop is a designated place for people to take a photo in front of while using your product or for a contest. People will want to take photos of themselves next to your logo or product if it is accompanied by a funny or sassy hashtag on the backdrop. Need clever hashtag ideas? Try a play on words with your product name or include pop culture references. 
3. Make It Inviting
At big, sprawling trade shows, a lot of walking and standing is required. People will want an opportunity to just sit and relax while they learn about new products and services. Your booth will be very attractive if you have chairs. (Ideally, not just stools to sit at, but chairs they can lean back in.) If you have the space, create a small lounge area with drinks and snacks for folks to relax at your booth. 
Creating an inviting environment means avoiding the metallic industrial warehouse aesthetic. Instead, incorporate some basic home decor, like an area rug, warmly lit lamps, and some succulents (they don't have to be real!). Even if you are displaying high-tech products and want to look sleek and modern, you can still add some homey touches to make people feel at ease. 
4. Create Uniquely Branded Walls with Silicone Edge Graphics
Silicone edge graphics (SEG) are large backdrops made of dye-sublimation fabric and an aluminum frame, giving the appearance of a borderless display. They can hang from above or act as trade show display walls. When you think of fabric signage, you may worry about sagging and drooping. Not the case with SEGs! There are no ripples or distracting sagging – just perfectly taut signage.
Use lighting to make them shine: backlit silicone edge graphic displays look vibrant all day long. Switch out your graphics with ease, depending on which products, services, ads, or color scheme you want to go with.  
5. Keep it Simple with a One-Person Pop-Up Display
Just testing the waters at your first trade show? Or perhaps it's just your style to keep it simple. In either case, a pop-up display is your friend. Super easy to assemble and disassemble, a pop-up display consists of a counter and a backdrop. Put anything you'd like on the counter: pamphlets, product exhibition displays, or a spinning wheel of prizes. 
This kind of setup only requires one person to work. (Of course, larger pop-ups can accommodate more staff.) Remember, for a small setup, don't overdo it on the signage or products. Use the space you have wisely by featuring the most important information, and refer people to your website to learn more.
6. Spotlight Your Booth with Fabric Light Boxes
For your trade show booth, consider mounted, hanging, or freestanding fabric light box display. Even in well-lit rooms, featuring a graphic in a fabric light box that's backlit provides a professional ambiance and pulls attention. 
Options abound with fabric light boxes: go small for a smaller budget, or several feet for a larger budget. Frame it with a colored border to make it really pop. With professionally illuminated signage, you won't run the risk of your sign catching the light (or shadow) in an unflattering way.
7. Communicate Effectively with Double-Sided Signage
Make sure your company name, logo, or message is printed large enough to be read from across a showroom. Double-sided signs can be read from in front of your display and from behind. Display the same message on both sides, or something different on either side. The point is to ensure everyone knows where you are located, and hint at what you offer. 
People should know what you offer within a few seconds based on visuals alone. Your company name and logo will do that heavy lifting, so don't get too lost in all the exciting possibilities that you forget the basics. 
8. Use the Power of Movement with Digital Signage
A video display stops people in their tracks because humans are hardwired to look at a moving image. In fact, that's how humanity survived for hundreds of thousands of years: ancient nomadic hunting tribes relied upon constantly moving animal herds. Take advantage of that primal instinct by harnessing modern technology to capture your audience. 
Run video on a loop using a mounted monitor or digital signage. Silently display product tutorials, ads, or even something aesthetic that accompanies your products. Even a simple blinking sign will do the trick.
9. Think Outside the Box with Unique Shapes 
Booth areas are often square or rectangular spaces. A large room full of straight lines gets visually tedious. So consider a sign in a rounded or triangular shape to break up the 90-degree monotony. 
Feature a large eye-catching decoration in a unique shape like a heart, star, or whatever makes sense for your product. But don't get too caught up in relating to your product: the point here is to create organic or geometric shapes to make you stand out. That way, attendees can say, "Meet me by the tower of purple hearts." No matter how silly, give them an excuse to check you out!
10. Provide Space for Demonstrations
Long before the trade show begins, announce that you will reveal some type of exclusive information there. Make a product announcement at the trade show – something they won't hear anywhere else. This will pique the interest of industry professionals to see how you are evolving, and generate some press. But don't conflict with any predetermined trade show schedule or event. 
If not news, then schedule a product tutorial or educational talk. Ensure you have a large exhibit area, counter space, and seating to allow a crowd to stop and listen. Trade show demonstrations are perfect opportunities to showcase your expertise in the industry. 
How to Make Your Exhibition Display Stand Out
No matter what size, shape, or style exhibit you choose, consider the following tips to stand out: 
Choose a Visually Appealing Color Scheme
Even if your product is a totally immersive AR or VR headset experience, you can't rely solely on the product to pull people in. The booth itself needs to be eye-catching. Think of your space as an entire room to dress and decorate. It's not just a 3D ad. It should incorporate elements of interior design, like an appealing color scheme. 
Incorporate your company's brand color palette, but you may also expand upon it. Cool colors promote calm, while warm colors have a welcoming and engaging vibe. The colors should make sense for your product or service, but also be inviting and enticing. In other words, you want to create a space that is approachable yet unique.
Showcase Your Logo
Your logo is unique: lean into it to stand out. Print it large as a backdrop, print it on stickers, or paste it on water bottles that you hand out. 
Make it Interactive
Human interaction is key, but you can also utilize interactive technology like iPads, tablets, AR/VR, or other tech at your booth. This hands-on approach lets the consumer test out a product, experiment with it, or simply pull up your website. A kinesthetic experience – not just glancing at your display as they stroll past – ensures people will definitely remember you. Create an interactive way for them to get in touch with you as well, such as a QR code to access your web presence, in addition or instead of a business card. 
Add Audio
These shows are packed and loud, with neighboring booths conducting business just a few feet away. But if audio is permitted by your trade show, take advantage of that. Just be respectful and keep your audio at a volume that can only be heard in your booth. Upbeat instrumentals can provide a pleasing ambiance that subtly encourages folks to linger a little longer. 
D'Andrea Visual Communications is Your One-Stop Shop for Exhibit Booth Displays 
D'Andrea Visual Communications is your partner from initial inspiration to installing your trade show graphics. We have been printing and designing for over fifteen years. 
Want to learn more about our trade show solutions? Please get in touch.