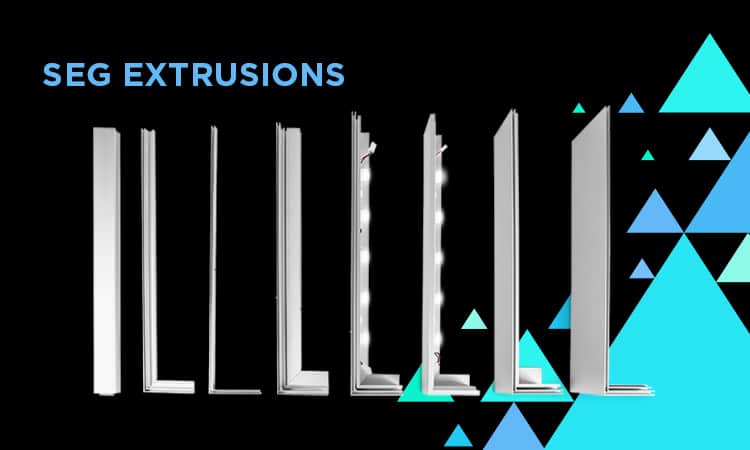 So you want to build your own Silicone Edge Graphic frames because they look absolutely amazing, but you need the extrusions to do so right?
Good news, you have landed in the right spot!
Here at DVC, we stock 8 custom silicone edge graphics and can sell them in 10′ or 20′ sticks and depending on the order size, we can usually fulfill the "stick" orders in just one day. Even better, we can build the frames and print the fabric graphics too.
To ensure you get exactly what you need, here are 5 things to consider when ordering SEG extrusions.
1. Will the frames be freestanding, wall mounted or hanging?
Very basic one here, but it is key to communicate that when ordering so all the correct parts are included in the order. For instance, if your display will be freestanding, you may want us to supply the baseplates too.
2. Will the frames need to be single or double-sided?
We have a solution for both and we can always get as creative as you need us to. Our designers can take your ideas and turn them into CAD drawings for manufacturing.
3. Will these SEG extrusions be used for fabric light boxes?
Don't forget the lights! If you want more visual impact, light it up. Our 3″, 4″ and 5″ SEG extrusions can all be used to make light box display. And the 5″ extrusion can be double-sided.
4. Will these SEG extrusions need to be powder coated?
This is one of the most overlooked steps by customers that can make a very aesthetically pleasing difference. Time and time again we see the same ol' silver frames when we spot silicone edge graphics in-store or at a trade show. But when customers choose to powder coat the frames a color or even white or black, the product gets taken to the next level of goodness.
5. What accessories will I need to put my SEG extrusions together?
Corner connectors, splicers, baseplates, etc. Let's discuss how these displays will finally be set up so we can make sure the process is seamless.
These are just some basic tips to think about. However, we know some projects can be very complex and we are here to guide and advise so your order is exactly as you need it.