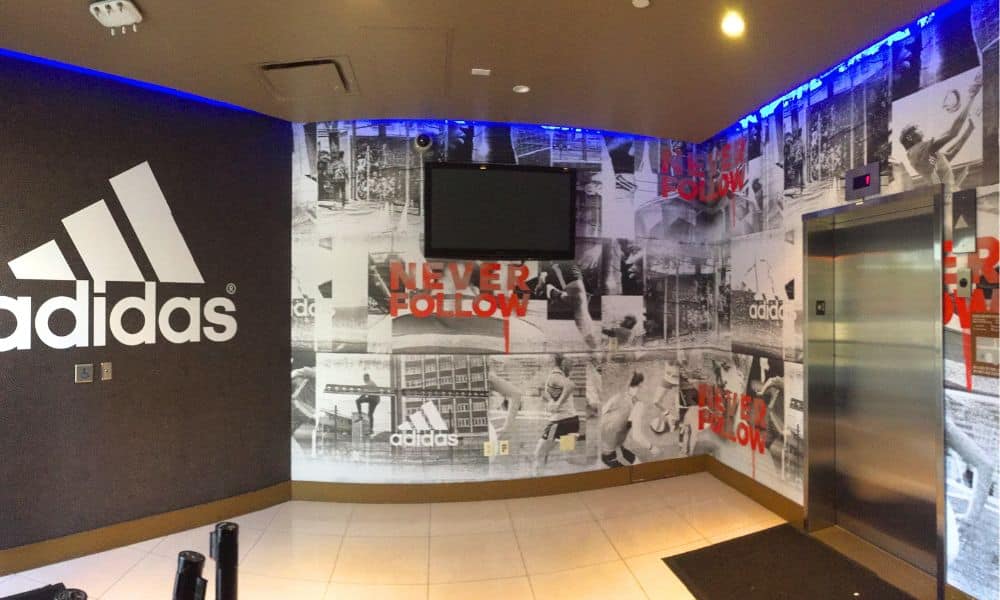 Are you looking to create a unique customer experience that sets your business apart? 
Look no further than your walls! 
Today, we'll explore the power of wall coverings and showcase eight creative wall covering ideas that will add depth and dimension to your space and leave a lasting impression on your customers. From custom-printed wallpaper to backlit fabric graphics, we'll demonstrate how they can transform your space into a captivating environment.
The Power of Wall Coverings
Every detail counts when it comes to branding and creating a memorable customer experience. However, one often overlooked aspect is your walls' impact on your customers. 
With the right wall covering options, you can communicate your brand's personality and values to your customers, creating a consistent experience that resonates with them. With the help of D'Andrea Visual Communications (DVC), you can transform your commercial space with wall coverings that reflect your brand's identity and elevate the aesthetic of your space. 
Whether you're looking to create a calming atmosphere in a spa or energize your restaurant with bold graphics, our visual communications experts can help you achieve your atmospheric goals with stunning decorative wall treatments.
8 Creative Wall Covering Ideas for Your Business
The right wall coverings can enhance any company, creating an exquisite visual experience for your customers. Here are eight wall covering design ideas for your business:
1. Illuminated Wall Coverings
Make a bold statement with illuminated wall coverings. Create interesting wall coverings using fabric light boxes that can be easily changed to keep your space fresh and exciting. Plus, it will add a touch of vibrancy and innovation to your space.
2. Fabric Wall Coverings
Looking to add warmth and texture to your commercial space? Fabric wall coverings are a great way to create a cozy and inviting atmosphere that your customers will love. 
At DVC, we have wall coverings that simulate the feel of fabric without its fragility. Our experts can help you choose the perfect fabric wall covering that complements your space and adds a touch of comfort and style to your environment. 
3. Textured Wall Coverings
Textured wall coverings can add interest and depth to your space. With a wide range of textures available, wall coverings are a practical and long-lasting option for creating a visually rich environment. Benefits include their durability, easy maintenance, and ability to withstand heavy traffic. 
You can take it to the next level and let our experts at DVC turn your walls into a canvas with custom-printed wall coverings. 
4. 3M DI-NOC
If you're considering a versatile and unique wall-covering solution for your business, look no further than 3M Di-Noc. With visually appealing finishes that mimic natural materials, Di-Noc allows you to achieve the desired aesthetic for your space. It is highly durable, resisting scratches, abrasions, and fading, making it ideal for high-traffic areas. Di-Noc is also moisture-resistant and suitable for installation in humid environments.
Installation is quick and easy with Di-Noc's self-adhesive backing, saving time and minimizing disruptions. It can be applied directly over existing surfaces, eliminating the need for removal and disposal. Maintenance is effortless, as Di-Noc's smooth surface repels dirt and stains, requiring only mild detergents for cleaning. Additionally, Di-Noc is environmentally friendly, as it can be removed without damaging the underlying surface, reducing waste.
5. Acoustic Wall Panels
If your space experiences a lot of noise, acoustic wall panels can help absorb sound and improve the acoustics of your area. Not only do they add functionality, but they also enhance your environment's overall style and design. 
There are plenty of DIY wall covering ideas that can be accomplished with acoustic wall panels. They can be customized to fit your space perfectly, so you don't have to sacrifice style for function. Choose from different sizes, shapes, and designs to create a professional, polished look that complements your brand's style.
6. Environmental Graphics
Creating a strikingly immersive experience with environmental graphics is a great way to incorporate graphic elements into customer-facing areas. From wall murals and window films to floor graphics and dimensional logos, environmental graphics will add an eye-catching touch to your space whether it's indoor or outdoor. 
7. Digital Signage
Digital signage is a dynamic and versatile option for businesses that want to create engaging displays in their commercial spaces. It typically involves using a screen or series of screens to display digital content, such as images, videos, or animations.
One of the benefits of digital signage is that it can be easily updated and customized to fit your business's specific needs. For example, you could use digital signage to display real-time data, promote upcoming events or sales, or showcase your products or services in a visually engaging way.
8. Silicone Edge Graphics
Silicone edge graphics, or SEGs, are popular for creating large-scale graphic displays in environments. They feature a printed fabric graphic that is inserted into a very thin aluminum frame that holds the graphic taut.
One of the benefits of SEGs is that they offer a seamless look that is ideal for creating large-scale graphics that span entire walls. They can also be easily updated and swapped out, making them a flexible option for keeping your space fresh and updated.
With these eight creative wall covering ideas, you can elevate your aesthetic by transforming your commercial space into a well branded environment.
Stand Out from the Crowd with DVC
Transforming your business area with unique wall coverings is a powerful way to enhance your brand identity and create a memorable customer experience. At D'Andrea Visual Communications (DVC), we specialize in creating visual marketing materials that reflect your company's values, getting you noticed, and setting you apart from the competition.
From creative store signage to custom-printed wallpaper, our experts can help you choose the perfect ideas for wall coverings that fit your brands style.