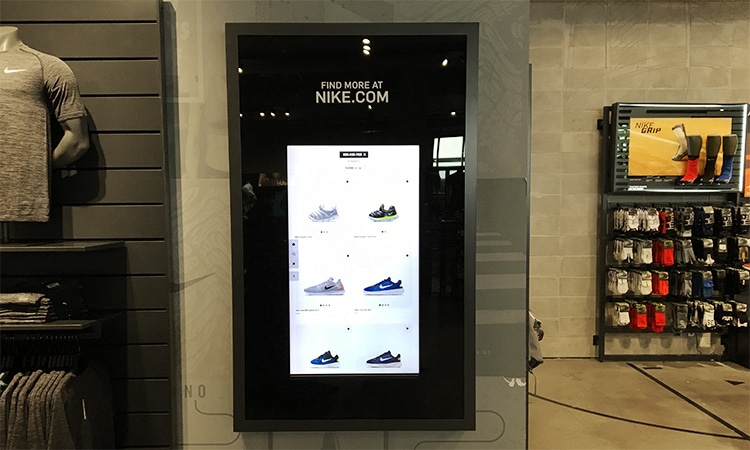 New and innovative technology attracts attention and excites consumers. And interaction has become the norm for a population that is ever-reliant on their mobile devices.
Today, shoppers are smarter than ever. So when it comes to making a purchase in-store, they are looking for rich product information to help in the decision making. And they aren't necessarily wanting to hear a pitch from a sales associate.
This is why an increasing number of retailers are turning to interactive retail displays to enhance the shopper experience.
Here are four reasons why you might want to consider an interactive retail display for your store:
1. They provide shoppers with the entertainment they crave.
About 70% of female shoppers and 50% of male shoppers view shopping as a form of entertainment, and they are constantly looking for new ways to be entertained. Interactive retail displays can do just that.
Just look at what Nike is doing with augmented reality.
2. They "slow the shopper" to help boost sales.
Interactivity helps keep a consumer engaged longer and this longer engagement helps strengthen a connection between brand and consumer.
According to this video from the Wall Street Journal, the slower you shop, the more you spend.
3. They offer additional information and personalization.
Many kiosks allow shoppers to input information, customize products, visualize how those products could fit into their daily lives and let them check out right then and there – something many consumers are very comfortable doing these days.
Products can then be shipped right to the buyers home, so less baggage has to be carried around during their shopping experience.
4. They collect consumer data.
If shoppers are interacting, then you need to be collecting. Data collected from these displays can be sent right back to marketing. This allows brands to adjust their marketing strategy in real-time to best meet the needs of their target audience.
Consumers are used to information being available when they need it online, and recreating that online experience in-store will help boost sales and create a better shopping experience.