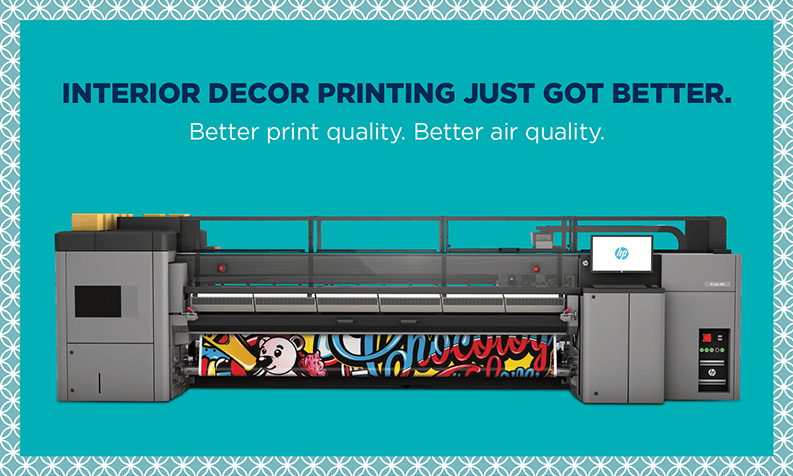 When it comes to sustainable printing for interior decor, it doesn't get any better than this.
And when it comes to printing products such as wallcoverings, canvas prints, menu boards, window shades, upholstery and more, the HP Latex 3600 is the press you want to run your jobs on.
Why?
HP Latex printing uses water-based inks which produce odorless prints and can go where UV and eco-solvent inks can't. Prints off this press have superb image quality, consistency, and outstanding durability.
Better for the environment.
HP Latex printing technologies address environmental and health concerns across a broad range of attributes throughout the entire life cycle of a print from production to disposal.
From the energy efficiency of the printer to sustainable sourcing practices for media to recyclable ink cartridges, the HP Latex fundamentally provides healthier print production without trading off performance. And HP Latex technology delivers all the certifications that matter to the environment.
While many printers claim to be "green", we like to offer full transparency.
Here are the facts that make HP Latex printing one of the most sustainable methods on the planet:
Reaches indoor spaces where solvent ink can't, like healthcare. Water-based HP Latex Ink prints are odorless.
Meets high indoor standards – HP Latex Inks are UL ECOLOGO®, UL GREENGUARD GOLD Certified
Prints meet AgBB criteria for health-related evaluation of VOC emissions of indoor building products.
Compliance with international wallcovering industry standards.
Enables LEED credits.
Free material take-back program.
Decorative printing just got a whole lot better!
HP Latex Inks produce odorless prints that can be used for indoor signage and décor, such as home, restaurants, retail, or even hospitals.
At DVC, we are committed to helping our customers meet their sustainability goals. And with HP Latex printing we can help create an attractive and safe environment.
Are you looking for a more sustainable option for your next print project?